Hello, my name is Kelly Joiner, I joined the Thomas Deacon Junior Family in March 2017. Alongside my Family Liaison Officer role, I am a Learning Mentor and Activities Coordinator.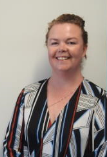 My learning Mentor role involves working with children who are experiencing difficulties; this could be because of social, emotional or behavioural worries. I also plan extracurricular learning experiences for children to thrive from and enjoy. My aim is always to support children and families to flourish and take positive steps. As Family Liaison Officer I can offer support, guidance, or advice to families. Additionally, I can signpost parents and families to other professionals who might better support them through a whole range of potential issues or challenges.
If you feel I can help or support your child or family please come and chat with me, I am usually on the school gate at the beginning of the day. However, if you prefer to email or telephone, my email address is kelly.joiner@tda.education or call me on 01733 426054 extension 3007.