We expect students to wear full academy uniform. PE uniform is ONLY worn on days when your child has PE.
Our full range of uniform is provided via the supplier Chromasport located at Unit 10, Wulfric Square, Bretton, Peterborough, PE3 8RF.
Chromasport offers three options for purchasing:
In store – where you can try on samples for sizing and comfort with your child and then purchase your uniform. Opening Hours: Monday Friday: 9:00am - 5:30pm. Saturday: 9:00am 1:00pm.
Online Store – here you can browse 24 hours a day, 365 days a year. Please type www.chromasport.co.uk, click schoolwear, click on Thomas Deacon Academy to browse and purchase.
Online Click & Collect – this enables you to browse and select your uniform of choice online but still come to store to try and ensure that you have ordered correctly all free of charge.
Academy Uniform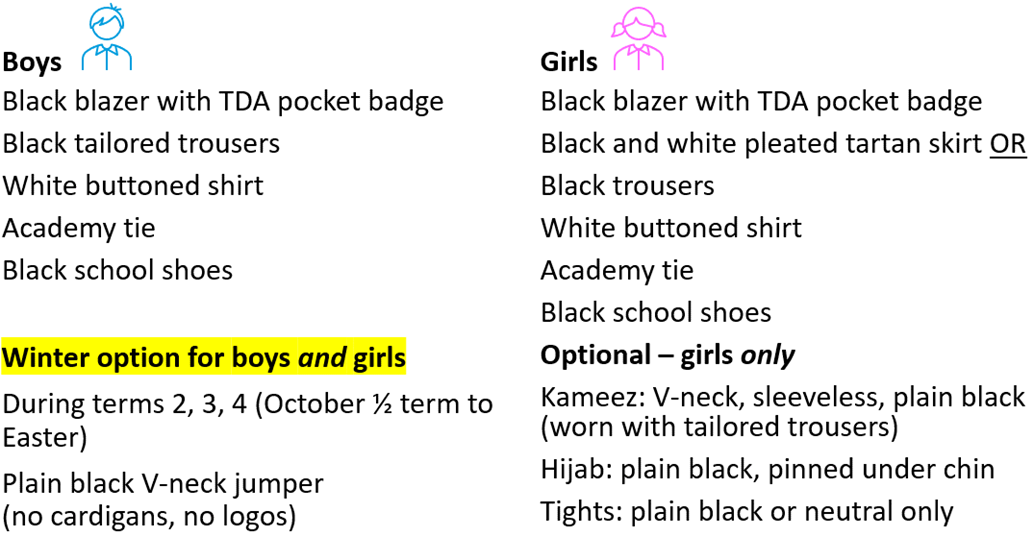 PE Uniform
This must be purchased from Chromasport, no alternatives are permitted. The following items are compulsory. Please note: girls can choose between leggings and training trousers.

You may also wish to purchase these additional items; however, they are NOT compulsory:

Other considerations:
Trainers should be proper 'sports' trainers, not fashion items which offer genuine support and some protections e.g., please do not wear Converse.
We advise students to wear a gumshield when playing hockey or contact rugby, and shin pads when playing hockey or football.
On days where the ground is wet, we advise that students bring a spare pair of shoes and socks.