TDA Lettings
The Academy has a large range of state of the art facilities that can be hired out to organisations, clubs and individuals. We have ample on-site parking within a secure site.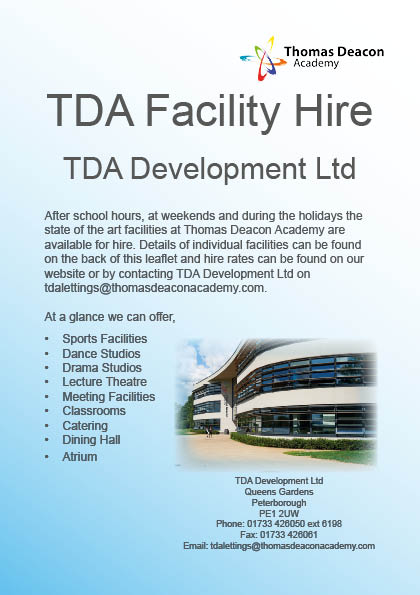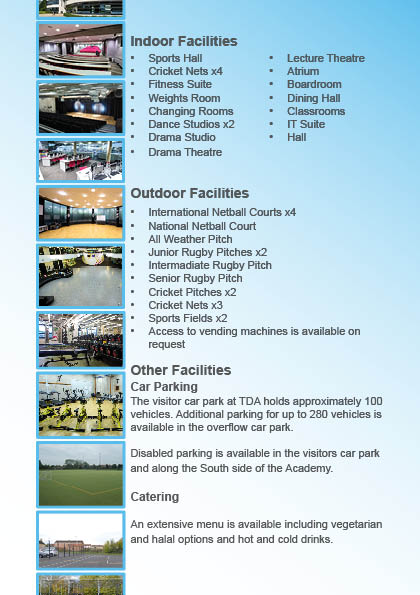 Our sports facilities include a large sports hall, floodlit all-weather pitch (AWP), rugby pitches, tennis courts and much more. Please see the link below for information about clubs and organisations that currently use the Academy.
For information about our prices please see the tables below or for a full lettings brochure, please click the link at the bottom of this page.
For further information or to make an enquiry please contact TDA Lettings on TDAlettings@thomasdeaconacademy.com or call 01733 426050 ext 6198. Monday to Thursday 08.30-16.30 and Friday 08.30 - 16.00
Outdoor Facilities

Per Hour

Mon-Fri 18.00-22.00

Saturday

Sunday

Netball Court

Per Court

£15.00

£18.75

£22.50

Tennis Court

Per Court

£10.00

12.50

£15.00

AWP

Whole

£50.00

£62.50

£75.00

Rugby

Pitch

£25.00

£31.25

£37.50

Cricket

Pitch

£50.00

£62.50

£75.00

Field

4 Hours

£50.00

£62.50

£75.00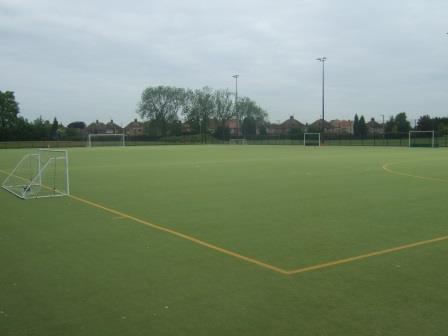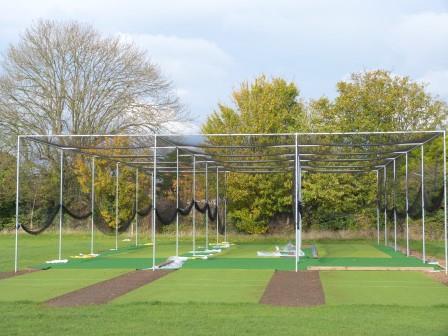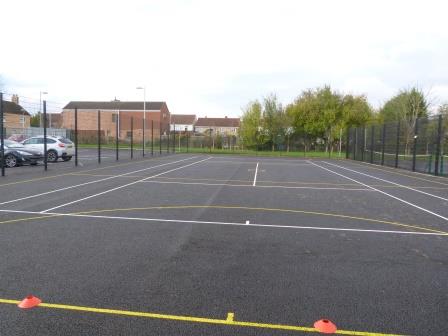 | | | | | |
| --- | --- | --- | --- | --- |
| Indoor Facilities | Per Hour | Mon-Fri 18.00-22.00 | Saturday | Sunday |
| Sports Hall | Whole | £45.00 | £56.25 | £67.50 |
| Sports Hall | Half | £30.00 | £37.50 | £45.00 |
| Cricket | 2 Nets | £20.00 | £25.00 | £30.00 |
| Cricket | 4 Nets | £35.00 | £43.75 | £52.50 |
| Netball | | £25.00 | £31.25 | £37.50 |
| Hockey | | £25.00 | £31.25 | £37.50 |
| Basketball | | £20.00 | £25.00 | £30.00 |
| Badminton | 3 Courts | £20.00 | £25.00 | £30.00 |
| Badminton | 6 Courts | £35.00 | £43.75 | £52.50 |
| Dance Studio | | £15.00 | £18.75 | £22.50 |
| Lecture Theatre | | £55.00 | £68.75 | £82.50 |
| Drama Theatre | | £55.00 | £68.75 | £82.50 |
| Atrium | | £55.00 | £68.75 | £82.50 |
| Exam Hall | | £55.00 | £68.75 | £82.50 |
| Boardroom | | £30.00 | £37.50 | £45.00 |
| Refectory | | £25.00 | £31.25 | £37.50 |
| Classroom | | £10.00 | £12.50 | £15.00 |
| Classroom – IT | | £20.00 | £25.00 | £30.00 |