The Arts College is the home of Music, Drama, Dance and Art. We are an enthusiastic and creative team with an excellent ethos of team work and support. The College is unique in its balance of curriculum, pastoral and enrichment, gaining the highest standard in all three whilst maintaining a warmth and friendliness that makes it a fantastic team to be part of.

Staffing
The College is headed by Nick Stephens-Dunn, College Leader, and he is supported in academic matters by four Lead Teachers (Art, Drama, Dance, Music) and one Key Stage Leader (Art). Pastoral matters are managed by a team of three Student Achievement Leaders. The team also includes two Advanced Skills Teacher (Music & Drama) and six teachers across the Arts subjects.
The other staff based within the College include two College Administrators, who provide a link between students, parents, staff and other Colleges; a full-time Art Technician; and two subject-specific Teaching Assistants.
Subjects and Qualifications
The Arts College provides teaching in Art/Visual Arts, Dance, Music, Drama and Performing Arts and offer the following qualifications:
A Levels in Art & Design, Dance, Music, Music Technology
BTEC National Award/Certificate/Diploma in Art
GCSEs in Art, Dance, Drama, Music
BTEC First Certificate/Diploma in Art, Drama
BTEC First Certificate in Music, Dance
2014 Results
GCSE
| | | |
| --- | --- | --- |
| Subject | Achieved | National A* to C |
| Art | 62% | 76% |
| Drama | 86% | 73% |
| Music | 73% | 77% |
BTEC First
| | | |
| --- | --- | --- |
| Subject | Subject Pass | Distinction/Merit |
| Art | 100% | 50% |
| Music | 100% | 30% |
| Drama | 100% | 40% |
| Dance | 100% | 40% |
A Level
| | | |
| --- | --- | --- |
| Subject (A2) | A*-B | A*-E |
| Art | 43% | 100% |
| Drama | 20% | 100% |
| Music | 50% | 100% |
| Dance | 50% | 100% |
BTEC National
| | | |
| --- | --- | --- |
| Subject | Pass | Distinction / Merit |
| Art | 100% | 100% |
Facilities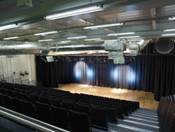 The College has a dedicated Drama Theatre which is fully equipped with sound and lighting (right), 2 Dance Studios, a Recording Studio and 2 flexible learning spaces with computer access (45 thin client units). The College also has access to the Academy's lecture theatres and ICT facilities, as well as a well-resourced
Multi-Media Resource Centre and Pod (Mac suite).
Extra-Curricular Activities

The Arts College hosts a variety of extra-curricular activities across the full range of Arts subjects and a full programme of Arts enrichment is well-attended throughout the year. This includes: Concert band, Show choir, Junior Choir, Dance Company, Key stage three Drama club, Key stage three Dance, Art club.
Recent Events
Each year the Arts College puts on a full Academy musical, most recently Sweet Charity. This year we are staging 'Grease'. There are also Dance and Music productions throughout the year including a Christmas concert in the Cathedral with local schools. There are also numerous Art, Dance, Theatre and Music trips throughout the year and visiting Arts Practitioners and workshop sessions.
The Music Department work with Peterborough Music Partnership in order to provide opportunities to develop our students musical opportunities.
Academy students have regular opportunities to perform in the community, including the Cresset Dance Show, Peterborough Arts events and the Oundle Festival.
The College also hosts a number of Charity Days throughout the year to aid the College's chosen charity, frequently through student initiatives such as the giving tree appeal. Inter-College activities are also a big part of the Academy, and include sports events, quizzes, and a highly-contested 'Battle of the Bands'.
Professional Development
CPD is given a high priority in the Arts College, and staff in the College have recently been supported on Leadership Pathways and mentor training. Teaching and Learning development is the central focus of every College meeting with a full programme of training sessions delivered by the team.Teaching and Learning in the College is of a very high standard and the team regularly lead training sessions for staff across the academy. Recent sessions include demonstrating progress, AfL, Personalised Learning, and Quality Assurance.
In addition, the Academy has a full, regular CPD programme on a monthly basis, with a variety of sessions offered across teaching and learning, ICT and leadership development. A CPD budget is also available to fund development via external courses including recently Arts Award Training.
Please Contact Us if you require further information