Technology College
The Technology College is well-organised and prides itself on a progressive approach that is supported strongly with technologically-rich environments. New technologies and industry-quality standards are at the forefront of where the College intends for its students and staff to operate in. Having invested extensively in CAD CAM and rapid prototyping machinery, we are in an ideal position to develop state of the art products that reflect the College's ambitions.
Staffing
Technology is headed by Lee Mawby, College Leader. Lee is supported by 4 Lead Teachers (Design Technology, Food, ICT), 3 Student Achievement Leaders, 3 Key Stage Co-ordinators (2 DT, 1 ICT), 1 Advanced Skills Teacher (ICT) and 5 Teachers.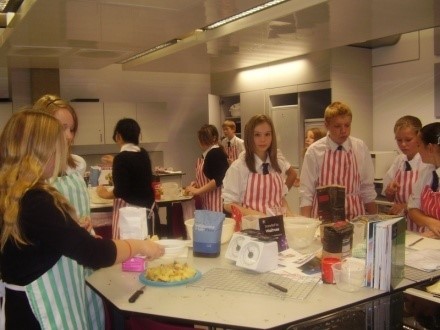 The other staff based within the College include 2 College Administrators, who provide a link between students, parents, staff and other Colleges. There are 4 Technology Technicians providing a range of specialist knowledge within a multi-skilled support team. In addition, the College has access to subject-specific Teaching Assistants who possess excellent subject knowledge and ensure that all students' educational needs are addressed.
Subjects and Qualifications
The Technology College offers a wide range of academic routes at Key Stages 4 and 5, both within Design Technology and ICT, which ensures that all students within the Academy can access the subjects on an appropriate level. Both curriculum areas are exceedingly popular and the take up at KS4 and 5 is superb.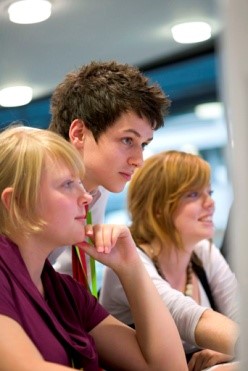 Qualifications offered include:
A Level Design Technology: Graphic Products, Resistant Materials (Edexcel), Textiles (AQA)
GCSE Design Technology: Food, Graphics, Product Design, Textiles,
Engineering (Double), Construction, Hospitality, Food and Catering
A Level ICT (AQA)
A Level Applied ICT (OCR)
Double Award ICT
GCSE ICT
Cambridge Nationals
AQA Computer Science
Please note: these may change in light of demand and availability of courses.
College Organisation and Structure
The College has divided the roles of academic and behavioural tracking in all year groups. The academic focus allows each Student Achievement Leader to concentrate on active intervention methods, targeting particular student groups and providing positive support and direction. The Behaviour Student Achievement Leader is in a unique position; the ability to track behaviour patterns and engage specific areas of expertise allows effective student intervention. Technology students have a strong sense of identity and are effectively supported pastorally and academically.
Extra-Curricular Activities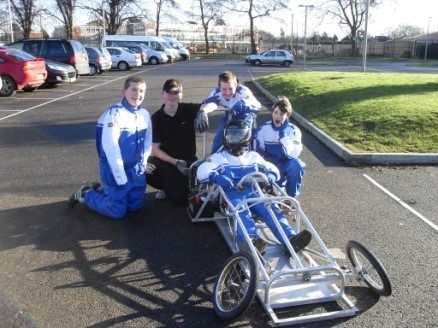 The Technology College offers supportive and creative opportunities for students and staff and actively encourage staff to pursue their interests within the realms of the College's curricula and their own personal interests and development. The range of activities that takes place is broad, and includes our involvement in GO4SET, Futures, the Crest Award, Greenpower Racing Team (right), plus comprehensive links with industry.
Recent Events
The College has participated in Go 4 Set, Licence to Cook, Printit and Greenpower (becoming national finalists). The College has continued to work with Sainsbury's to become a Fair Trade school, and has links with industry, including Perkins Engines and KingsGate Conference Centre (which sponsors the Year 12 ICT Design project, and has been a Design and Technology Award winner for the last 4 years.
A core shift in our Key Stage 3 programme is to link the transferable skills in the STEM subjects within Thomas Deacon, this cohesive approach is in its infancy yet is gaining momentum, and with ICT and DT taking strong roles in the development of this programme, we are eager to evaluate its success and impact upon our wider curricula.
Inter-College activities are also a big part of the Academy, and include sports events, quizzes, and a highly-contested 'Battle of the Bands'.
Technology Achievement Assembly 2013
The following video was created by one of our talented Sixth Formers, Theodore King(theoking@mail.com) who is now studying for a B.A in Industrial Design and Technology at Loughborough University.
Professional Development
The Technology College endeavours to provide a supportive and progressive platform which encourages personal growth with clear direction for all, and works to ensure all staff have the same opportunities. Staff are encouraged to develop their skill set in the broadest of terms, thus adding value to the individual and the organisation.
Curriculum development and middle management courses are available to staff with the relevant experience and motivation, and support has been provided for staff that have chosen to continue with their own personal development, including undertaking Masters degrees and taking GCSEs. Outside of the Technology curriculum, staff have also taken the opportunity to gain other experiences through the Duke of Edinburgh Award Scheme.
In addition, the Academy has a full, regular CPD programme on a monthly basis, with a variety of sessions offered across teaching and learning, ICT and leadership development. A generous CPD budget is also available to fund development via external courses.
Please Contact Us if you require further information