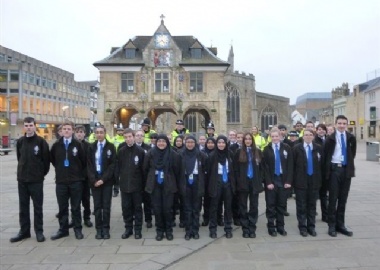 SHOPPERS were provided with helpful crime prevention advice in Peterborough recently by Cambridgeshire's Volunteer Police Cadets, out on their first assignment.
Supporting regular officers from Cambridgeshire Constabulary, the Volunteer Cadets and Cadet leaders' gave members of the public advice about keeping personal items such as purses, wallets and mobile phones safe whilst out and about shopping in Peterborough City Centre.
As part of the local Safer Neighbourhood Team initiative the Volunteer Police Cadets were invited to put the skills they have learnt so far into practice. The Volunteer Police Cadets handed out to shoppers safety items designed to foil opportunistic thefts such as purse bells and restrainer cords for use with phones or other valuable items.
Now that the Volunteer Police Cadets have completed their initial training they will be seen out engaging with the public at least three hours each month supporting the Constabulary on local matters in the communities in which they serve. This was an ideal opportunity for the Volunteer Police Cadets to engage with members of the public and support local officers in providing an impact on a real community issue in Peterborough.
Commenting on the first assignment of the Volunteer Police Cadets, Police and Crime Commissioner Sir Graham Bright said: "I am impressed to see how quickly the Cadets have put their training into action by helping the public with crime prevention advice. Sometimes, we tend to forget the most basic aspects of personal safety, and, keeping our belongings and valuable items secure in our leisure time is part and parcel of that. The Volunteer Police Cadets are engaging with the public and raising the profile on local safety partnership matters which is most commendable."